Roasted Ranch Quail with Chanterelles, Risotto, and Pinot Essence
Pinot Noir Essence
2 teaspoons chopped shallots
1 teaspoon unsalted butter
1 Tablespoon sugar
2 cups Pinot Noir
1 cup veal or quail stock
Salt and freshly ground black pepper
Chanterelle Risotto
2 quarts chicken stock
8 Tablespoons (½ cup) unsalted butter
1 teaspoon finely chopped garlic
2/3 cup chopped onion
1 pound Arborio rice
½ cup white wine
½ cup grated Parmesan cheese
1/3 cup grated Fontina cheese
1 cup chanterelle mushrooms, sliced with stems intact
Salt and freshly ground black pepper
Quail
6 quail, bones left in
Salt and freshly ground black pepper
1 Tablespoon unsalted butter
1 teaspoon olive oil
Preparation
1. To prepare the Pinot Noir essence: Sauté the shallots in the butter over high heat in a saucepan; sprinkle with sugar and continue to cook until the shallots caramelize. Add the Pinot Noir and continue cooking over high heat until the liquid is reduced down to 1/3 cup. Add the stock and continue cooking. Reduce again down to ½ cup. Season with salt and pepper to taste, remove from the heat and keep warm while you prepare the risotto and quail.
2. To prepare the risotto: In a medium-size saucepan, bring the chicken stock to a boil; then lower heat and reduce to a simmer.
3. In another saucepan, sauté the garlic and onion in 4 tablespoons of butter over low heat until onion starts to caramelize. Add the rice, stir, and sauté about 2 minutes until the rice is coated with the oil and glistens. Add the white wine and continue to cook over low heat until the liquid is reduced by half. Add just enough simmering chicken stock to cover the rice and continue to cook, stirring constantly with a wooden spatula. When half the chicken stock is absorbed by the rice, add more chicken stock to cover the rice and keep stirring. Continue this process until the rice is al dente. (You may have chicken stock left over.) Add the rest of the butter, the cheeses, and chanterelles, and season with salt and pepper to taste. Set aside.
4. To cook the quail, preheat the oven to 500°F. In a large sauté pan over high heat, melt the butter and add olive oil. Sauté the quail until both sides of the breast and leg are golden brown, about 5 minutes. Transfer the quail, breast side up, to an ovenproof pan and roast in the oven about 3 minutes. Remove the quail from the pan and set aside in a warm place to rest. Just before serving, reheat the quail in the oven for 1 minute.
5. To serve, mound risotto on each serving plate, and place a roasted quail on top. Drizzle with some Pinot Noir essence.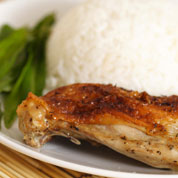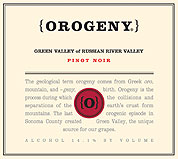 Paired with Green Valley Pinot Noir
Bright aromas and silky flavors of cranberry, red cherry and raspberry preserves are layered with hints of Asian spices and cinnamon. The texture is opulent, with a firm, integrated tannin structure. Hints of toffee from barrel aging heighten the nose and linger on the fruit-imbued finish. Enjoy this Pinot Noir's lush flavors with a broad range of entrées, including beef tenderloin, roast lamb or poultry, grilled pork or salmon, and especially pasta or risotto dishes laden with wild mushrooms.