Luxurious Four-Cheese Macaroni & Cheese
Ingredients
2 Tbs. fresh thyme leaves
¼ cup all-purpose flour
¾ cup fresh breadcrumbs
4 Tbs. unsalted butter
1 lb. dried penne rigate pasta
5 oz. Gruyère, coarsely grated (about 1-¾ cups lightly packed)
2-½ oz. Parmigiano Reggiano, freshly grated (scant 1 cup)
8 oz. blue cheese (I like Maytag Blue), crumbled (about 2 cups)
11 oz. Monterey Jack, cut into ½-inch dice (2 cups)
1 medium onion, finely diced (about 1 cup)
3 cups whole milk
1 Tbs. finely grated lemon zest
½ cup chopped fresh flat-leaf parsley
1 bay leaf
¼ tsp. Tabasco sauce; more to taste
Pinch freshly grated nutmeg
Kosher salt and freshly ground black pepper

Read more: http://eat.snooth.com/recipe-pairing-guide/r/luxurious-four-cheese-macaroni-and-cheese/#ixzz4c6LtQz56
Preparation
Heat the oven to 350°F. Put a large pot of well-salted water on to boil.
Meanwhile, heat the milk in a small saucepan over medium-low heat to just below a simmer, stirring often to prevent scorching. Remove from the heat and cover to keep hot. Melt the butter in a medium saucepan over medium-low heat. Add the onion and bay leaf. Cook, stirring occasionally, until the onion starts to soften and becomes translucent, about 5 minutes. Add the flour and cook, stirring, for 2 minutes. Gradually whisk in the hot milk, bring to a simmer, and cook for 10 minutes, whisking frequently, until thickened and smooth. Season the white sauce with 1 tsp. salt, pepper to taste, the nutmeg, and the Tabasco. Remove and discard the bay leaf. Stir in the Gruyère and blue cheese.
To make a traditional white sauce to bind macaroni and cheese, whisk hot milk into a cooked paste of butter and flour.
Cook the pasta to al dente, following the package directions. Drain well and return to the pot. Toss the lemon zest and half of the Monterey Jack into the pasta while it's still hot; add the cheese sauce and quickly toss to combine. Stir in the parsley and thyme and transfer half of the pasta to a large (3-quart) shallow casserole or lasagna pan. Sprinkle with the remaining Monterey Jack and half the Parmigiano; top with the remaining pasta. Sprinkle with the remaining Parmigiano and the breadcrumbs. Bake until bubbly and golden, 50 to 60 minutes. Let rest for 5 to 10 minutes before serving.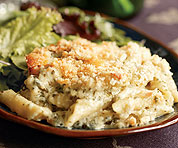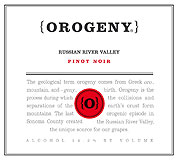 Paired with Russian River Pinot Noir
The crystalline, complex flavors of our Orogeny Pinot Noir speak to the distinctive soils and microclimates of four tiny vineyards in the Russian River Valley. The sunny vintage intensified the wine's fragrant ripe blackberry, blueberry and mulberry expression, while its notes of forest loam and redwood bark reflect the terroir. Warm spice nuances, from 40 percent new French oak barrels, lift the aromas and linger on the finish. Fine tannins and beautifully balanced acidity support the silky palate.